Updated on December 11, 2013:
Merry Christmas!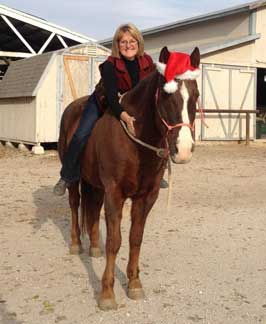 Steve Bauhr Clinic
December 29, 2013 at 10 AM
For info, please call (831) 636-9300 or email for info.
My yearling colt Legado LF - JUST MEASURED HIM AT 16.2 hands!
He does his parents proud. Sire is Soberbio XII (Ebanisto son) out of my Indiano XVII grandaughter Herencia KR.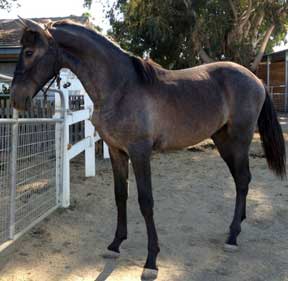 Our newest addition filly by Isselmere,

Dutch warmblood champion,

and our beautiful Azteca mare Yoanna.

She is bay with 2 socks and a star and snip.

"Bella"
Beautiful yearling filly SOLD!

By dressage stallion Romerito

out of our Guardiola mare Isabelle de Oro!

She has it ALL!

Looks and an "in your pocket " temperment.

Izarra and her new owner Darcy Wong
For sale Gorgeous Yearling colt!

Stunning looks and dressage potential.

Heroe de Honor LF is 1/2 brother & USDF Colt of the year!

1/2 sister best movement young horse Honesta KR.

Dam is Herencia KR

Sire is Soberbio, dressage stallion and a Parelli 4th level horse.

Looking to be your new best friend

Please visit our Horses For Sale for updates.
Hermosa has officially started her classical training under saddle with Tony Topete, Classical Spanish Equitation.
Hero's Honor - Born June 8, 2010 at 7:15 PM
Hero's Honor is a large colt who already has his parents lovely movement!! Very friendly and playful.

Sold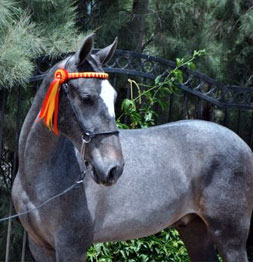 Herencia KR X Fugitivo XII (Qualified Stallion)
---
Adora- Born April 23, 2010 at 6:20 PM
Dora is a beautiful black bay/black filly who is friendly and outgoing.
She has correct conformation and beautiful movement.
Faralay II (Qualified Stallion)
---
San Benito County Fair - October 2, 2009
Paul and Paula are the chairpersons for the Open Horse Show at the San Benito County Fair. We would like to thank our team of people who worked tirelessly for the benefit of the horse show: Teresa and Brittany Slaton, Ginger Petersen,Christy Clayton, and all the hard working people on the regular Fair staff. It takes a tremendous amount of work and teamwork to put on an event like this and these people donate their time. We also would like to thank our Judge Rod Hernandez of Rod Hernandez Quarterhorses in Castro Valley.

Congratulations Chelsea Bucaloy on Miss Ellie May's wins at our San Benito County Fair horse show. She had two first place, two second place and one third place ribbons. Congratulations on a job well done!
Summer Events for 2009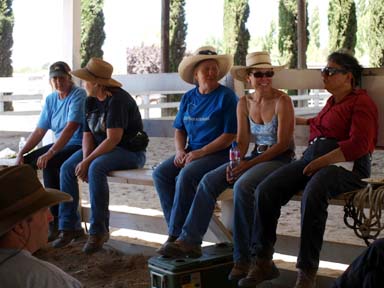 Hollister Natural Horsemanship Study Group 8/2/09 -
Building confidence and rapport with your horse.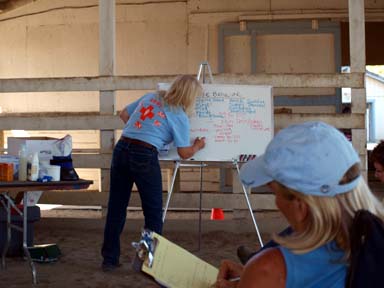 First Aid for Different Emerging Situations 7/18/09
Congratulations to one of our star boarders Brittany Slaton for winning the Miss California Rodeo Salinas 2009 on July 16, 2009.
"Herencia"

Congratulations to Edwin Pauneto on the win of "Honesta" at the PRE EXPO 09. Congratulations on his prestigious awards:

Champion of two year old filly class
Best movement class
Absolute Movement Champion of Young Horse

"Honesta"
Another upgrade to the arena....Check out our new footing!
Introducing our newest addition to Legacy Farms - Caroline & Riley